More about our new partnership with UK Soccer School
UK Soccer School Leadership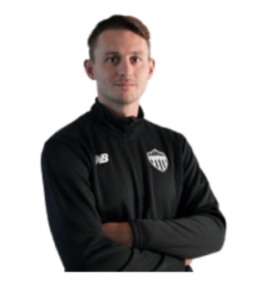 KIERAN O'BOYLE
CLUB DIRECTOR
Kieran has a background in the Manchester United Academy system and played professionally with teams such as Fleetwood Town FC and Salford City FC in the English football league.He has coaching experience with the professional club Blackpool FC in England, invites to the Olympic Development Program (ODP), and is currently an assistant coach at Concordia University. Kieran will be a key figure in leading and developing our players.

NOAH KEATS
COACH
Noah played professionally in England with Exeter City FC in League 1, as well as for Bath City and Truro City in the English National League.
He has coaching experience with Southampton FC and Exeter City in England and at the university level with The University of Bath. With his expertise, Noah will contribute significantly to our players' growth and success.
UK Soccer School is a member of AYSO (American Youth Soccer Organization), adding credibility and aligning with established standards. Two of the three UK Soccer School staff members are Regional/National leaders within AYSO, further demonstrating their expertise and commitment to youth soccer development.
Partnership changes
Now that LVSC is powered by UK Soccer School, we will be afforded the opportunity to play with other leagues throughout North Austin.
AYSO UNITED – Austin
AYSO United Austin is located in the city of Round Rock and boasts a tremendous coaching staff. Our US Soccer Licensed coaching staff is dedicated to providing a player-centered environment which is perfect for players to develop both their tactical and technical skills while enjoying the benefits of AYSO.
Registration
Registration for our league will now be hosted by UK Soccer School. LVSC will still promote and communicate registration details through the LVSC website, Facebook, and Newsletter emails as before.
Communications
While LVSC will continue to lead community outreach and social engagement, UK Soccer School will assume responsibility for managing league details, including registration details, parent concerns, extra summer camps, training sessions, and more. They will be the main point of contact for these matters.
Teams
Player and team requests will still be taken into consideration. However, UK Soccer School will handle the process of building and communicating rosters. Lago Vista teams will be formed based on enrollment size, skill level, and player/team requests. Rest assured that Lago Vista players will be placed alongside their peers, ensuring a familiar and supportive environment. We anticipate having sufficient sign-ups to form full teams in each division or even more, and we will actively promote registration to attract as many Lago Vista youth as possible.
Coaching Structure
All teams will be led by experienced coaching staff provided by UK Soccer School. Parent volunteer involvement and assistant coaching opportunities will still be available. The coaching staff will train and certify all parent volunteers and manage the background check process. To maintain consistency and facilitate player development, the same coach will remain with each team throughout the entire season.